German Account Executive 🇩🇪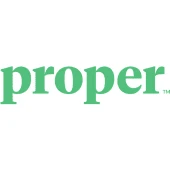 Proper
Sales & Business Development
Capital Region of Denmark, Denmark · Capital Region of Denmark, Denmark
Posted on Monday, June 26, 2023
🚀 Join our team as a German Account Executive! 🇩🇪

Guten Tag! Are you ready to add a dash of German efficiency, a sprinkle of sales expertise, and a whole lot of fun to your career? Look no further! We are seeking a passionate and driven German Account Executive to join our vibrant team.

As a German Account Executive, you'll be part of a team of 3 go-to persons for our German-speaking clients. You'll build strong relationships, understand their needs, and provide digital solutions to help them optimize their property management.

With an overall desire to make rental administration easy, we have developed a platform that removes all the frustrations of being a landlord by leaning on technology, automation and amazing customer service. Started in Denmark, then scaled to the Dutch Market and recently launched in Germany as well. This is a massive opportunity for us. Half of all Germans rent and ¼ of the 81 million tenancies in Europe are in Germany - that's 21 million tenancies! This is the market for us to get and we need someone who'll reach out and prove to our German prospects how we'll ease their lives.

What's in it for you?

📈 A Thriving Market: Germany is calling, and we're ready to make a splash! Join us as we conquer new territories and establish Proper as the go-to property management tool in the German market

🌈 A Diverse Team: You'll be surrounded by a diverse group of talented individuals who are passionate about sales, great products and happy clients. Collaborate, learn, and grow together as we build something truly remarkable

💡 Professional Growth: We're committed to your development and success. You'll have access to ongoing training and mentorship, empowering you to sharpen your skills, expand your network, and take on new challenges

🎉 A Fun and Supportive Culture: We work hard, but we also know how to have a good time! From team-building activities to virtual hangouts, we foster a positive and inclusive environment where everyone feels valued and appreciated

What we're looking for: 🎯

👉 Native or near-native fluency in German, with excellent written and verbal communication skills. Einwandfrei!

👉 Proven experience in sales, preferably in the SaaS industry. You know how to build relationships and close deals like a pro.

👉 A genuine passion for productivity and helping others reach their goals. You love being the driving force behind success stories.

👉 Strong problem-solving skills, a proactive mindset, and the ability to thrive in a fast-paced, ever-changing environment. You're ready to roll up your sleeves and make things happen.

👉 Exceptional interpersonal skills and a knack for building rapport. You're a natural connector, and people gravitate towards your infectious enthusiasm.

Sounds like a Proper opportunity?

Join the fastest growing PropTech scale up Denmark, with an experienced team and backing from the three biggest VCs in the Nordics. Our 40+ Propsters are headquartered in Copenhagen, and we've just opened a brand new office in Berlin.

A few extra Proper Perks:

🍰 A slice of the company through our warrant program

📌 Office located in central Copenhagen overlooking the Meatpacking district

☕️ Damn good coffee and lunch!

❤️‍🩹 Extensive private health insurance

⛱ 6 weeks paid holiday

🧃 Free beverages and snacks - with a focus on the healthy ones

🎉 Social gatherings - focussing on building relationships and togetherness

👊 Way too many 'Proper' puns

We're looking for people, not bullets. Not sure if you fit the description perfectly? Don't let that hold you back. Let your skills and passion stand out, especially if your career has taken some interesting twists and turns. We thrive on diverse viewpoints, and people who think rigorously, not afraid to challenge assumptions and the status quo.

If you're ready to embark on an exciting journey with Proper and take your career to new heights, then we can't wait to meet you!

Apply below with your updated CV and a brief introduction in German telling us why you're the perfect fit for this role. Wir freuen uns darauf, von Ihnen zu hören!

Prost to a prosperous future with Proper! 🥂

Founded in 2017 with a mission to transform the way we live. We do it by making renting easy and efficient for landlords while creating the best possible experience for tenants and employees.

We are supported by some of the industry's strongest and most talented investors in our journey towards transforming the way we live. We have already raised more than 30 Million DKK, which is used to create the world's best platform for both landlords and tenants.